Cornwall Council toilet closure plan 'civic vandalism'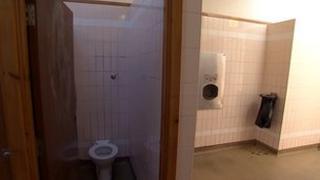 Closing more than 100 public lavatories in Cornwall would be "civic vandalism", a councillor has said.
Conservative-run Cornwall Council is trying to save £1.1m over the next four years from its public toilet budget.
It is responsible for 247 toilets, but a committee has proposed the council stops paying for the cleaning and operation of 114 of them.
Lib Dem Councillor Rob Nolan, who is also Mayor of Truro, said it showed a "lack of concern" for public services.
Motion sensors
He said: "This is totally unnecessary civic vandalism and demonstrates the Tories' complete lack of concern for the public services that people view as important."
The proposals have also been criticised by St Austell and Newquay Lib Dem MP Stephen Gilbert.
"If we want to get people in our town centres spending their pounds, we need to give them a place to spend a penny," he told BBC News.
Although the council has no statutory responsibility to provide public toilet facilities, it currently spends nearly £3m a year running the conveniences - with cleaning alone amounting to £1.2m.
"Cleaning costs are high... they make up about 40% of the budget for toilets," council spokesman James Ortiz said.
Other associated costs of running the public toilets include water, electricity and business rates.
Under the council's plan, money saved could be diverted to help towns and parishes run the remaining 134 toilets for at least two years.
The council believes town and parish councils could run their own facilities for less money.
It said it was not taking any decision lightly and other options were being considered.
Independent councillor Fred Greenslade said those options included looking at ways to reduce water and electricity costs with things such as solar panels and movement sensors.
The committee's recommendations will be discussed at Cornwall Council's cabinet meeting in November.