Residents concern over derelict railway building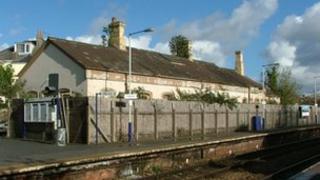 Concerned residents have called for a derelict building on the platform of an east Cornwall railway station to be renovated and restored.
The dilapidated building on Saltash station has been empty and derelict for at least a decade.
Residents said the building "gives a terrible impression" and "is just waiting to fall down".
Chris Speed, director of New Homes South West, said "negotiations are under way to begin renovation work".
The building, which is around 130 years old, used to house the stationmaster's office, a waiting room and a cafe.
Several years ago Saltash Town Council sold the building for £150,000 to development company, New Homes South West, but renovation plans were halted due to the recession.
Resident Emma Pitcher said: "I think it's a real shame. It's a beautiful building and I remember it when I was a little girl standing here watching steam trains coming across the bridge. It's an absolute disgrace, it's falling to bits."
Resident Steve Jenson, whose view overlooks the building, said: "There are slates off the roof, there are trees growing out of the chimney stacks and the windows are all boarded up."
Saltash town councillor Richard Bickford said the council was giving the future of the building a "high priority".
"We think it's a strategic site for Saltash, we care about it and we are looking into what we would like to see happen and how we can influence that," he added.