Cornish charity ShelterBox sends help to Turkey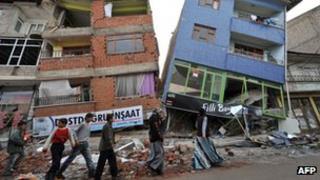 A Cornish charity which specialises in providing emergency shelter tents and survival equipment has arrived in Turkey.
ShelterBox, based in Helston, is in the country to distribute aid.
The charity has been called in following the 7.2-magnitude earthquake which struck the south east of the country on Sunday.
News agency Anatolia said the Turkish government was now urgently seeking foreign aid.
John Leach, ShelterBox head of operations, said: "We now have a team on the ground assessing the need for our aid and working closely with the local authorities, Rotarians and the Turkish Red Crescent Society to offer our assistance wherever it is needed most."
Officials said that, with more than 2,000 buildings destroyed, there was an urgent need for accommodation.
The death toll from the disaster stands at 461 but aid agencies have warned of "hundreds, possibly thousands" of people trapped under rubble.
Mark Pearson, ShelterBox field operations specialist, said: "One of the biggest problems the population will face will be the numerous aftershocks and a fear of returning to buildings when so many have been destroyed already.
"Our focus is ensuring the most vulnerable are receiving aid as quickly as possible."