George Eustice MP calls for more help for Cornish farmers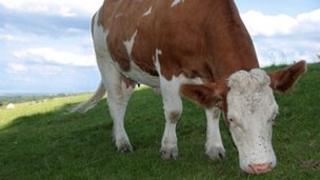 Cornwall's young farmers need more financial aid, according to a local MP.
Camborne and Redruth's George Eustice wants ministers to extend a Welsh scheme which helps youngsters set up in farms.
Mr Eustice said there was a "looming crisis in the countryside" as insufficient young people were entering the industry.
The Young Entrants Support scheme (YESS) supports Welsh youngsters with a grant and mentoring from other farmers.
Mr Eustice said: "I worked in farming for the first 10 years of my career. If you look at the situation now many farmers' sons are working for large agri-businesses.
"I think it's a shame we're losing some of these farmers of the future.
"It's very important people can see they can own their own business so it's a career and not just a job."
The MP believes money could be taken from the government's rural development programme to fund YESS for young farmers in England.
Dan Nattle secured his tenancy on a dairy farm at Lanivet, near Bodmin, because of a European funding scheme that is no longer running.
He said: "I'm all for getting funding for people who want to get into the industry.
"I think it's a great industry to be in. Any help is always appreciated."