BBC Children in Need 2011 in Cornwall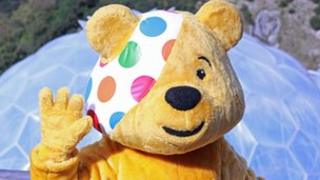 BBC Children in Need in the South West returns on Friday 18 November to the Eden Project in St Austell.
Sarah Hellyar from BBC Children in Need in the region said: "I believe it's a huge honour to work on Children in Need and every year I've been lucky enough to do it I've felt very honoured and humbled.
"Humbled by the children who I've been privileged to meet as I make films about the difference the money raised has made to their lives.
"Humbled by the generosity of the time and spirit of the fundraisers. People who each year dream up more weird and wonderful ways to raise money.
"And humbled too, by the people who've hosted us right around the South West."
Party with Pudsey
This year, BBC South West's Children in Need party comes from the Eden Project in St Austell.
There will be a choir of 200 children from Cornwall joining with thousands of others around the country in a massive choral performance of Avril Lavigne's Keep Holding On led by BBC 2 choirmaster Gareth Malone at Television Centre in London.
There will be music from local band Crowns on stage in the arena.
Visitors can join the lantern parade as it snakes its way through the site, lit by thousands of fairy lights, accompanied by singers and musicians from Eden.
BBC Spotlight will be broadcasting live from Eden throughout the day and into the evening. Victoria Graham, David Braine and David Fitzgerald will be joined by Duncan Warren from BBC Radio Cornwall as his evening show comes live from Eden too.
Entrance to the Eden Project, for the broadcast, will be free after 18:00 GMT.
Over recent years several organisations and individuals in Cornwall have raised thousands of pounds for the BBC's charity.
Whether you are planning to fundraise at work, in your home, with a club or group, or among friends, tell BBC News what you are doing and we will promote it on BBC Radio Cornwall and online.
In the past, there have been bed pushes, a huge ball has been rolled throughout Cornwall, children have baked mountains of cakes and much more, all to raise the pounds for Pudsey.
BBC Cornwall's Matt Shepherd had his chest waxed live on air to raise money last year.
BBC Radio Cornwall's Laurence Reed agreed to have his arms waxed once the pledges had gone over £500. A total of £680 was raised for BBC Children in Need.