Delays installing Saltash Celtic cross by River Tamar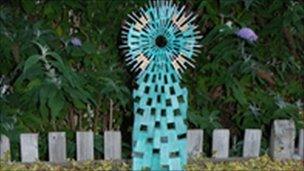 The installation of a Celtic cross on the Cornish side of the River Tamar has been delayed by up to a year, organisers said.
The structure, almost 19m (62ft) tall, was due to be in place by March 2012 but this has been delayed until 2013.
Saltash Waterfront Residents Association, which is behind the scheme, said it was a big project and was taking longer than expected.
The sculpture is part of a scheme to re-open Elwell woodlands.
Joe Ellison, who is in charge of the project, said: "The cross itself is new technology. No-one has built anything quite like it on that sort of scale apart from the Angel of the North, so we're into unknown territory."
The sculpture is one single piece, which has to be finished before it can be slotted into place.
The cross has been designed in copper to reflect Cornwall's history of mining the metal and is to welcome people coming into Cornwall from Plymouth.
The project was awarded £450,000 of lottery funding in March 2010. Saltash Town Council gave £50,000 towards the scheme.
It has gained support from the founder of Cornwall's Eden Project, Tim Smit, who said that it could be a "very beautiful" addition to the area.
But some local residents are concerned the cross would provide too much of a distraction for drivers.
Mr Ellison said it was set to become an "iconic landmark".
He added: "It will be the very first thing people will see when they come over the Tamar road bridge into Cornwall.
"The statistics say that will be 1.4 million visitors a year, so it will be a symbol of Cornwall."
Related Internet Links
The BBC is not responsible for the content of external sites.