Cornwall heliport 'noise pollution' challenged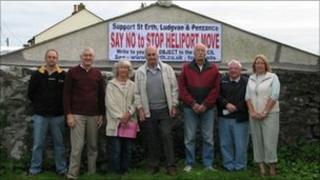 Protesters campaigning against a new heliport site in west Cornwall have challenged the company to prove they will not be badly affected by noise.
People living near the proposed site at St Erth have asked British International Helicopters (BIH) to carry out a test run near their homes.
They are worried about the noise and pollution from the helicopters flying to and from the Isles of Scilly.
Resident Jan Baker said they "won't be free of the noise wherever we go".
If the heliport site is approved, Raymond Bliss' property would be less than 30 metres away from where the helicopter would be landing.
Mr Bliss said he would have to wear "earplugs the whole time".
A spokesperson for British International Helicopters said it would do a test run into the proposed new base in the coming weeks and would welcome feedback.
Campaigner Malcolm Bowes said the heliport "is a lot worse" than the busy A30 which runs on one side of his home.
'Affect' lives
Mr Bowes said: "We're going to have noise, we're going to have fumes, plus we've got a lot of elderly people that live along here who've worked all their lives and now they're going to be blighted with this right on their doorstep."
Bridget Rickard, a parish councillor in the village, said: "I am completely appalled by the whole thing.
"This is going to be on a daily basis. They are going to be flying 24 times a day, within a mile of our village. It's going to affect all our lives."
However, others feel the link with Scilly is vital and they are prepared to try to get used to the change.
The Chairman of St Erth Parish Council, Doris Harry said: "On the whole I think the heliport would be in the right place.
"I have seen the flight plan for the helicopter and I don't think it will really affect the village, only when it's very windy."