Cornish school is first in region to be state funded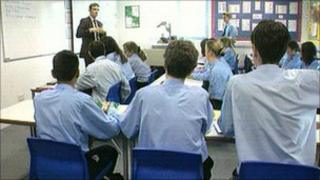 A school in mid Cornwall has been granted free school status - the first secondary in the region.
St Michael's Catholic Secondary School will open in Camborne as a state-funded school from 2012.
Education Secretary Michael Gove said the schools would "raise standards in communities where the need is great".
Free school critics claim they can be socially divisive, but governor Joyce Sanderson pledged St Michael's would be "open to everyone".
St Michael's Catholic School is currently located in Truro but its planned expansion will see it relocate to Camborne.
Free schools allow groups of local parents, teachers or charities to establish their own schools and, like academies, will be outside local authority control receiving money directly from the Department for Education.
Head teacher Neil Anderson said the school was going to be a Catholic faith school which would "offer parents more choice, particularly in Cornwall where there is no Catholic secondary".
The Cornwall councillor responsible for children's services, Neil Burden, said the council had "always supported diversity in all sorts of areas and parental choice".
But he insisted the council was "not outside the loop" and would still be working in partnership "to help the school move forward".