Planners back Hayle South Quay development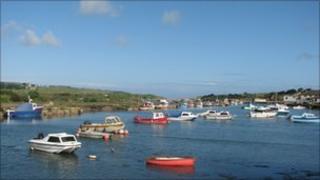 Cornwall councillors have backed a multimillion-pound development of the South Quay in Hayle.
By 13 votes to six the Strategic Planning Committee said it was "minded to agree" a supermarket, restaurant and houses on the quay.
The development would be based in a prominent part of Cornwall's World Heritage Site.
English Heritage is opposed to the plans, as is Icomos which advises Unesco on World Heritage sites.
The plans have been described as "incongruous" by English Heritage and Icomos UK.
South Quay has been derelict for 40 years and is owned by ING.
'Time to move on'
The town Mayor, John Bennet, said: "It might be more a day of relief after going through years of applications and talks.
"It's time to move on. Sometimes making no decision is worse than making one. I am glad a decision has been made."
Just before the planning meeting, Deborah Boden, the Cornwall co-ordinator for the World Heritage Site, said if the application was given the go ahead "Icomos might trigger a lengthy investigation, which could see the World Heritage status removed by Unesco".
In a statement, English Heritage said the current proposals at South Quay were "unacceptable in this sensitive location".
ING said it has listened hard to objections that the supermarket and houses development was too big and the restaurant incongruous on South Quay.
But it said the plans were "best for Hayle and do not imperil Cornwall's status as a World Mining Heritage site".
The plans will now be sent to the government which may decide to call them in and make the final decision themselves.