Fewer people on Cornwall's shopping streets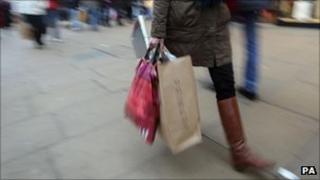 Thousands of shoppers have deserted Cornish high streets, according to a new report.
The survey claimed the loss equates to £180m of trade a year compared with a decade ago.
The report said the number of people shopping in the county's 10 major towns has dropped by 15% since 2001.
Traders blame the internet, out-of-town shopping and less cash in consumer pockets as the reasons for the slump.
Fore Street in Redruth has seen the number of people shopping daily there fall from 6,200 in 2001 to 4,400 last year.
Former Redruth mayor Barbara Ellenbroek has run an Arts and Crafts shop in Fore Street in Redruth since the 1970s. But now she is planning to move to smaller premises.
She said: "We're getting fewer and fewer people through the door. We're a specialist shop, what we sell is nice to have but not a 'need to have'."
Millions of pounds have been poured into Redruth by Camborne Pool Redruth (CPR) Regeneration.
Mark Smith, the business development director at CPR Regeneration, said: "I think we've done a great deal to make it more pleasant for people to shop in the town centre. I don't think we can combat the changes in the way people spend money."
According to the figures, from the Conservative-Independent run Cornwall Council, Liskeard in south east Cornwall has lost 4,000 daily shoppers. Truro, Penzance and Camborne have also been badly hit. But Falmouth has seen the number of shoppers increase from 10,700 every day to 12,000.
Cornwall Council said the results were collated from a snapshot taken each year in May on a single day and figures could be affected by weather.