Truro concert remembers soldiers killed in Afghanistan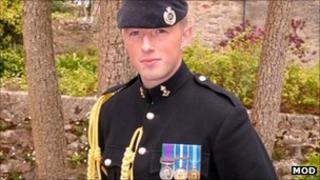 Cornwall servicemen who have died in the war in Afghanistan have been remembered at a service in Truro.
The Royal British Legion's Heroes Concert was held at Truro Cathedral to remember the eight who died.
Photographs and tributes were on display in the cathedral during the event on Saturday evening.
Before the event, Alex Fox, whose son Paul was killed in the war last year, said: "It'll be very emotional... I hope it'll be more joy than sadness."