Bodmin mine shaft collapses leaving 700ft deep hole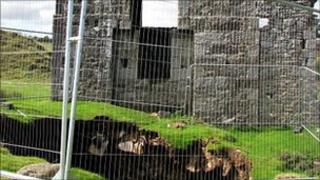 Part of a copper mine on Cornwall's Bodmin Moor has collapsed, leaving a 700ft (213m) deep mine shaft.
Bellingham shaft at Caradon Hill, which is part of Wheal Jenkin mine which closed in 1892, has been temporarily fenced off.
The 20ft (6m) wide shaft opened at the surface after heavy rain.
Julie Dowton, from the St Cleer and District Commoners' Association, said it could cost "several thousand pounds" to cap the hole.
Ms Dowton said: "The hole has actually got a little bit bigger than it was a couple of weeks ago.
"We are working with the landowner and the Commoners' Association and looking at the options available."
She added: "It is a difficult situation but we will do whatever we can to make it safe.
"We are going to need expert advice from mining engineers on how we move forward."