More Cornwall Council money may be used to fund stadium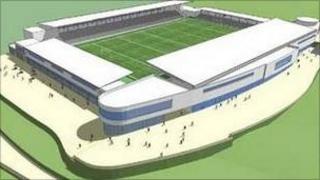 Cornwall Council has not ruled out the possibility of more taxpayers' money being used to build a 10,000-seat stadium, BBC Cornwall has learnt.
The cost of the proposed Stadium for Cornwall has been estimated at £24m.
So far, the council has put aside £120,000 to create a business plan for the preferred site at Threemilestone near Truro.
Cornwall Council said it was discussing financial options with private investors.
If approved, the plans could also pave the way for a new 1,500-home housing estate nearby in an associated application.
Private sector 'interested'
Cornwall Council's head of economic development, Sandra Rothwell, said any profits incurred from the housing could not be used to help pay for the stadium.
She said the council was "having discussions with the private sector who are interested".
Ms Rothwell said elected members would make the final decision over whether council money should be used.
"There are a number of financial packages and options that we'll be putting before members," she added.
Rod Lyon, the general secretary for the Stadium for Cornwall working group, said: "I would like to see it privately funded but I would also like to see some council funding.
"I think if there's a certain amount of council funding it proves it's our stadium," he added.
A spokesman for the convergence funding scheme for Cornwall and the Isles of Scilly told BBC Radio Cornwall a sporting facility would not receive European money, although some funds could be used for hotel and conference facilities at the site.
The proposals will be presented to the cabinet in November.
A spokesperson from Cornwall Council said the idea was for the Cornish Pirates Rugby Team and Truro City Football Club to play at the site.
They said the facilities could also be used to hold concerts and other events.