Medieval silver seal found in Cornwall 'treasure trove'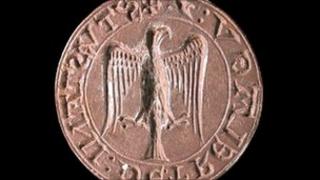 A 13th Century solid silver seal found on farmland in Cornwall has been declared treasure trove at an inquest.
The Latin-inscribed seal - once used to make a mark in hot wax - was discovered by metal detector enthusiast John Fereday in a field near Newquay.
Cornwall Coroner Emma Carlyon declared the seal to be treasure at a special inquest hearing in Truro.
The Royal Institute of Cornwall is interested in acquiring the seal, which is being valued at the British Museum.
Mr Fereday said he was "so excited that his hands were shaking" when he realised what he had uncovered.
Royal Institute of Cornwall finds liaisons officer Anna Tyacke said they were "very excited" about the possibility of buying the seal.
The tiny seal, which is about the size of a 10p coin, shows an eagle with its wings outstretched and bears a Latin inscription which translates as "the seal of Tristan of Treago".
Secret location
Ms Tyacke said: "When this silver seal matrix was first brought to me to record as potential treasure, it was in such good condition that I could not believe that it might be a medieval seal.
"Medieval seals are very rare in Cornwall and silver ones are rarer still.
"I was excited when the British Museum verified that it was indeed a 13th Century seal of Tristan of Treago, who may have owned a manor under the Earl of Cornwall at the time, Piers Gaveston - whose arms bear the Cornish chough and a similar eagle."
Gaveston, who was a favourite and possible lover of King Edward II, was killed in 1312 in an uprising of nobles against the English king.
Once the seal has been valued, the finder and landowner will share the proceeds.
The coroner said the location of the find should remain a secret to prevent trespassers trying to go on to the farmland.
The Royal Institute of Cornwall hopes to buy the seal using a grant from the Headley Trust.