Sea bed wave energy hub not yet used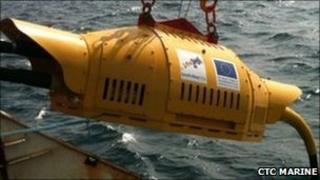 A £42m system designed to carry electricity from wave energy machines off Cornwall to the mainland has yet to be used, a year after installation.
The wave hub, 10 miles off Hayle, is designed to allow companies to test their wave energy devices.
Only one of the five wave energy companies originally involved still plans to use the wave hub.
The undersea connection to the national grid was funded by the UK Government and European Union.
It was lowered on to the sea bed in September last year.
The idea is companies will pay to use the wave hub.
Claire Gibson from the South West Regional Development Agency said: "We're still confident we'll have a deployment next year. That was always our target.
"The industry has taken a knock because of the recession, and therefore it has slowed up somewhat, but the facility is now there. The future does look bright."
Ocean Power Technologies Ltd (OPT) is the remaining company involved in the project.
The company successfully completed a grid connection of a wave energy device in the US a year ago.
It is currently testing a device in Scotland. OPT remains enthusiastic about the Hayle-based project.
Chief executive officer Angus Norman said: "Wave energy is a developing technology. We don't want to go too fast too early. The principle of the machine working, and working reliably is very important."
Last summer it was feared the wave hub scheme could become a victim of the freeze on European funds and the scrapping of the South West Regional Development Agency.
An agency spokesman said when the agency was closed next spring, the wave hub would continue as a stand-alone company.