Surfers Against Sewage beach alerts flag up 48 spills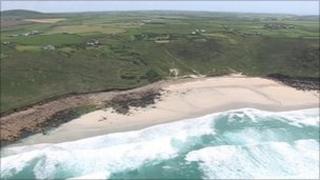 A new sewage alert system for beachgoers has flagged up 48 sewage spills across Devon and Cornwall since it launched in June.
The text and email alerts are a trial collaboration between Surfers Against Sewage (SAS) and a number of water companies.
Salcombe, in Devon, has had nine sewage alerts and Summerleaze beach in Bude, Cornwall, has had eight.
SAS said the spills were happening "too frequently".
The trial began in the South West on 20 June.
'Surprise, shock and disgust'
It involves South West Water (SWW) informing SAS when sewage is discharged from Combined Storm Overflows (CSOs) near beaches.
SAS then texts or emails the 1,500 subscribers to let them know about the sewage.
Andy Cummins, from SAS, told BBC News that SAS had been campaigning about sewage releases "for years".
He said since the alert system had been operating, SAS was seeing "surprise, shock and disgust" from the public.
"We have a [sewage] system that's full to the brim already," he said.
"That's not acceptable, we need to work on improving the system."
'Short term impact'
South West Water said: "No other European country is offering this sort of live information on risks to bathing water quality.
"The system is broadly telling us what we and most beach users know - that storms can have a short term impact on the quality of the bathing water.
"We need to analyse the results carefully across the whole season and compare them with the sampling data to decide whether we need to make further investment at specific locations."
Mr Cummins said that if no sewage alerts were sent out beachgoers "should have confidence in the water quality."
The South West trial is due to end on September 30 but Mr Cummins said SAS hoped to work with the Environment Agency to introduce the alerts year round.