More HIV cases in Devon and Cornwall, figures show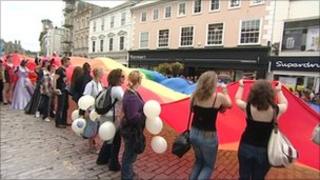 The number of people in Devon and Cornwall who are HIV positive has risen, according to the Health Protection Agency (HPA).
The figures for 2009 show 2,804 people living with the disease and accessing NHS care in the South West - 315 more than the previous year.
It is one of the fastest growing conditions in the UK and if left untreated, can lead to Aids.
Health specialists want to encourage more routine testing.
Al Green, project lead for Healthy Gay Cornwall from the Primary Care Trust, said it was important to reduce people's fear of accessing sexual health service as early detection was "crucial".
"Late detection, as we are seeing, means not only that other people are at risk of contracting the infection, it also means that when people are diagnosed they are incredibly ill," he said.
"HIV can affect any one regardless of race, gender and sexual orientation.
"Sexual health check ups should be as routine as getting an eye test or a dental check up."
Health professionals were in Truro on Saturday for Cornwall's annual Gay Pride event, to raise awareness of the issue.