Rare crab makes appearance at Cornish aquarium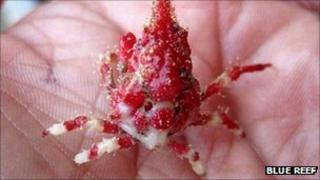 A rare type of spider crab, which has not been seen in Cornwall since 1912, is making an appearance at a north Cornwall aquarium.
The tiny 'gibb's spider crab' was donated to Newquay's Blue Reef Aquarium earlier this summer by a fisherman.
The creature is so rare a marine life expert was needed to identify it.
Matt Slater, curator at the aquarium, said the only records they had of such a crab dated back to "Edwardian and Victorian times".
Photos of the crustacean were sent to Cornish marine life expert Dr Paul Gainey who identified it.
Mr Slater said: "It's hardly surprising that we weren't able to find out much about it, apparently it's incredibly rare.
"There are 13 records but all are during Edwardian and Victorian times when the crabs were caught in trawl nets."
Mr Slater said the crab was "only about the size of a thumbnail".