More foreign tourists head to Cornwall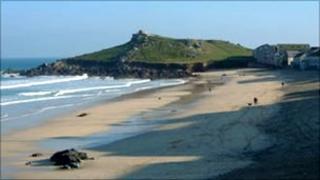 The strong Euro is beginning to attract more European tourists to Cornwall this year, according to figures from the tourism agency Visit Cornwall.
The organisation said the falling pound was one of the reasons more continental Europeans were visiting the county.
The Euro is currently almost 8% up on its value a year ago but only around 6% of visitors come from abroad.
The Eden Project has reported a rise in visitors from Holland, Germany and France.
Malcolm Bell, from Visit Cornwall, said the increase in German tourists was also due to a marketing campaign in the country.
Mr Bell said: "We've been marketing with Devon, in Germany. It is important when you're going for overseas markets to have a bigger footprint.
"That's certainly paying dividends this year and we want to build on that."
Figures from Visit Cornwall also show that 88% of all tourists here have been before.