Wind energy for Gorran community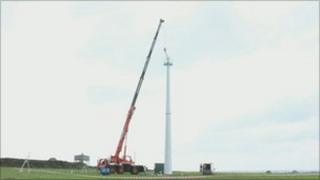 The small community of Gorran in south Cornwall will soon be generating its own energy and exporting surplus to the national grid.
Work to erect two community wind turbines at a cost of £500,000 is well under way.
Community Power Cornwall, a local co-operative, is behind the project.
The organisation has helped the villagers in Gorran to look at its energy needs and developed a renewable energy scheme.
'Big symbol'
Villager Ella Westland, from Transition Gorran, said clean energy production and low carbon living were "things many villagers have been working towards for a long time".
She said: "I think it's fantastic that finally after three years we're seeing the wind turbines go up.
"I think it's a big symbol for the village. Everybody's now realising that something is happening.
"There will be profits coming back from the grid. We can use profits for more low carbon schemes."
Neil Farrington, from Community Power Cornwall, said: "This is very different from the large scale projects. We've worked with a group of people in the village.
"They've decided the size and identified the site. Hence we get much more support for the project that we develop than large commercial developers."
Community Power Cornwall said the turbines should be generating power for the national grid within a matter of weeks.