'Unique' stone house found at Gunwalloe on the Lizard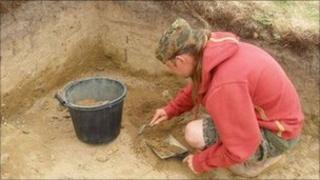 Archaeologists in Cornwall have found remains of a "unique" stone house, which could date back 1,500 years.
Gunwalloe on the Lizard - possibly once the home of St Winwaloe from Brittany - is thought to have been the site of an early medieval settlement.
The west Cornwall site is eroded by winter storms every year.
As well as the stone house, the archaeologists from the University of Exeter have also unearthed several small pots from the early settlement.
The director of the excavation, Dr Imogen Wood, said: "The house is a very significant discovery.
"It's the first house of its kind from the period that we have found.
"This is the first example of an actual stone house, and it's a rectangular house so it's completely unique to Cornwall.
"A settlement could have built up around here forming an early community."
'Bits of bone'
Another archaeologist from the party, Josie Craig, has discovered how the settlement dealt with its waste.
She said: "We have found a trench which we think is a medieval landfill.
"It's got mainly household waste, so we have found lots of pots and small bits of bone."
Historical documents suggest that St Winwaloe might have visited the site in the 6th Century and possibly lived in a hermitage in the cliffs behind the current church.
It is thought that he came to convert Cornish people to Christianity.
The archaeologists believe Gunwalloe was also home to an Iron Age fort. They said they would carry out further investigations next year.
The excavation is one of 10 being carried out on National Trust land with funds from the Regional Development Agency.
English Heritage and the South West Coast Path team are also involved in the investigation of the site.