Cornwall health chief's measles immunisation plea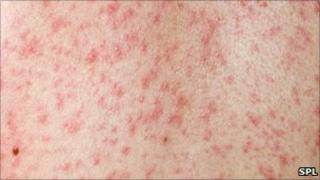 Parents in Cornwall have been advised to immunise their children after a sharp increase in measles.
There were 654 reported cases in England and Wales between January and June this year, with 63 in the South West. The total last year was 374.
Felicity Owen, public health director for Cornwall and the Isles of Scilly, said it was "the tip of the iceberg".
She said the danger of measles was greater than any "perceived" MMR vaccine danger.
The "perceived" danger is a link between the MMR vaccine and autism - a development disability - but this has been discounted by scientists.
Ms Owen said she believed many more cases were going unreported.
"We're actually seeing many more cases this year than we did this time last year, both in England and Wales and in the South West," she told BBC News.
"We've probably seen triple the number of confirmed cases... and these confirmed cases are in a way just the tip of the iceberg.
"There will be other cases where children's parents think they have a cold.
"This vaccine has absolutely been researched and we know it is a safe vaccine to give to children.
"I've given it to mine - I wouldn't recommend it otherwise."
In June, the Health Protection Agency said 90% of two-year-olds had received the first dose of the measles, mumps and rubella (MMR) vaccine.
This is the highest level for 13 years, but still falls short of the 95% required to stop the spread of the disease in the community.
The MMR vaccination gives 99% protection against the virus which causes the disease.