New exhibition of forgotten Cornish village Retew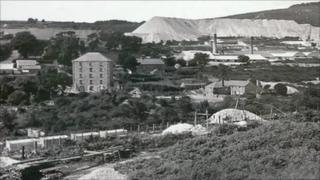 An exhibition has opened in mid Cornwall remembering a small village which was deliberately demolished nearly 50 years ago.
Retew, near Newquay, disappeared to make way for the expansion of a china clay quarry.
The community, between St Stephen and St Dennis, consisted of 24 houses and a factory.
It was swamped by a quarry and china clay waste. Nothing remains of the once popular village.
'Time would come'
The land belonged to English China Clays and all the residents lived in company houses.
Once the company expanded to extract the clay underneath the homes in the early 1960s the residents were obliged to go.
Arthur Northey, 79, from The China Clay History Society, said the residents had lived there knowing they may have to leave.
"In the back of their minds, they knew that the time would come, but you don't think that far ahead do you."
Mr Northey added that the company owned the clay workings and the mineral rights to Wheal Remfry and that when the village of Retew was sacrificed the residents were dispersed into rented accommodation in the wider community.
"I had an uncle who lived in Retew. He was moved to a modern bungalow. The company always found people other accommodation."
'Sad to leave'
The photographic exhibition at the Wheal Martyn china clay museum near St Austell tells the story of Retew's growth and sudden demise.
One of those keen to see the rare photographs was 86-year-old Gerald Ford.
He lived in the village for decades and said it was a special place that had been lost forever.
"There was nothing we could do about it. My children were brought up there. I felt very sad really. It was a really nice community.
"We led very enjoyable lives, everybody knew each other. We had a little chapel down there. On Sunday evenings we used to walk down the railway line, it was lovely."
Ninety-year-old Clemoline Bunt lived most of her life in Retew. She was the last resident to leave the village.
"There was no television then. We all did our own thing. We'd have picnics, the butchers van used to call and the bakers van. We had a fish and chip van, we had everything.
'Born and bred'
"It was awful sad to leave. I spent so many years there. The village had lovely spring water there, we used to go up with our pitchers and fill up every day.
"My house was the last one to go. The clay pit came nearly up to my back door. When they blasted, the stones used to hit my backdoor, that's when I knew it was time to move on."
Mr Northey spent 40 years working for English China Clays.
He is now a volunteer at the Wheal Martyn Museum which houses the exhibition about the lost village.
He said: "There are photographs of houses and schools which have long gone. It's very interesting for people who remember these buildings.
"You were born and bred in the industry back then. When you finished school you more or less had a job guaranteed in the clay industry and it was a job for life."