Arctic 'Row to the Pole' highlights ice cap melting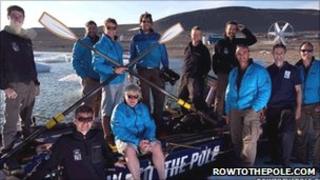 Cornish rower Billy Gammon is among those taking part in the expedition Row to the Pole, highlighting the effect of climate change in the Polar Regions.
Mounted by Scots adventurer Jock Wishart, the crew hopes to make history by rowing the 500 miles across the Arctic Sea.
The journey from Canada is expected to take four to six weeks to complete.
Organisers said the trip has never been done before and is only possible because of more ice-melt in the Arctic.
Mr Gammon is rowing alongside Mr Wishart, Mark Delstanche, Rob Sleep, Captain David Manns and Mark Beaumont to reach the magnetic North Pole.
'Polar bear playground'
Cornwall born Mr Gammon spent the early part of his career in London in the advertising industry after which personal circumstances took him to New Zealand in 2004.
It was during this time that he received news his father had been diagnosed with prostate cancer.
He said "the ignorance, mixed with the stigma surrounding prostate cancer was hugely frustrating" and he was determined to highlight the disease.
Having never rowed before he took part in Woodvale's Indian Ocean Race 2009, as Team Rowing For Prostate.
Mr Gammon is now rowing with five other men that he says have only known each other for six months.
The Row to the Pole challenge sets off from Resolute Bay in Canada.
Crew row in three hour shifts to give them all a chance to rest.
Mr Gammon said: "We're going from bolthole to bolthole, which gives us quite a lot of time to get our heads down and recharge because you just can't have fatigue on a trip like this, that will lead to almost certain problems."
Aware of the dangers they face, particularly the most recent that saw a British boy die and four others injured in a polar bear attack in a remote part of Norway, Mr Gammon said: "Whilst these creatures are magnificent, they are also highly dangerous.
"They need the ultimate respect and we're in their playground here and you just need to be aware at all times."