Record numbers of marine life seen off Cornwall's coast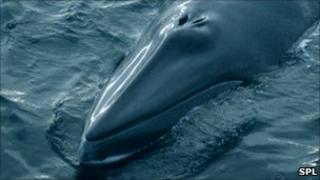 Scientists monitoring wildlife off Cornwall have seen a "staggering" number of seabirds and marine mammals.
They said thousands of seabirds and hundreds of dolphins were seen feeding on mackerel during July.
Since 2007 the Seawatch Southwest Survey has recorded marine life off the Land's End Peninsula. It runs from July until October.
Scientists said it was the first time such a large gathering of animals had been recorded feeding in the area.
Project co-ordinator Dr Russell Wynn said: "The number of seabirds and marine mammals involved was staggering.
"In a single hour we counted over 10,000 Manx shearwaters passing the watch point with several thousand feeding offshore accompanied by hundreds of plunge-diving gannets."
A RSPB spokesperson said: "A total of 250 Balearic shearwater sightings were also recorded at Gwennap Head in July, which represents up to 1% of the world population of this critically endangered seabird."
The survey team are now combining their observations with detailed sea floor maps and tidal flow measurements to investigate why these feeding frenzies are concentrated in certain areas.
The aim of the project is to understand the distribution and behaviour of migratory species.