Polar bear attack is 'worst nightmare', father says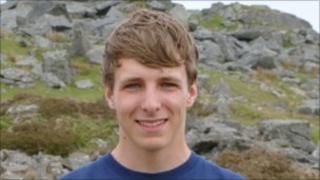 An attack by a polar bear on a boy from Cornwall is "every parent's worst nightmare", his father says.
Scott Bennell Smith, 17, was one of five people mauled by the bear on the trip to Svalbard, Norway. A 17-year-old boy died, the other four were injured.
Scott suffered a fractured jaw and head injuries in the attack.
In a statement released through Scott's school, Devonport High for Boys in Plymouth, Peter Bennell Smith said it was "the worst day of my life".
'Good progress'
The trip for 80 people was organised by the British Schools Exploring Society (BSES), a youth development charity based in London.
The attack on the campsite, near the Von Post glacier, about 25 miles (40km) from Longyearbyen, took place early on Friday.
Eton pupil Horatio Chapple, 17, from Bishopstone, Wiltshire, was killed in the attack before the bear was shot by team leader Michael Reid, 29, from Plymouth.
Mr Bennell Smith said: "Friday was without doubt the worst day of my life and it will never leave me to think how close Scott came to being killed that day.
"I am so sorry for the loss of his new friend and fellow adventurer, Horatio. It is every parent's worst nightmare."
In the statement, the school added: "As far as we know, Scott sustained a fractured jaw and other head injuries during the attack, including the loss of some teeth.
"He was well enough to speak to his father from his hospital bed on Friday evening and is making good progress in a ward alongside the other injured party members."
BSES said Scott was due return to the UK on Sunday under the care of a specialist medical evacuation team and admitted to hospital.
Polar bears are one of the largest land carnivores, reaching up to 8ft (2.5m) and weighing 800kg (125 stone).