Brad Pitt zombie film 'brilliant' for Cornwall economy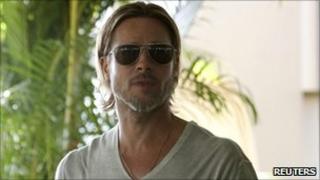 A new film being shot in Cornwall and starring Brad Pitt will be "brilliant" for the Cornish economy, a town centre manager has said.
Scenes for zombie thriller World War Z are being filmed in Falmouth just weeks after Paramount chose the location.
About 500 local people have been recruited as extras after taking part in auditions in July.
Some of the filming will take place on board a ship which will be moored in Falmouth docks.
Richard Gates, Falmouth Town Manager, said: "The whole turnaround has only been a few weeks, it's really been that quick.
"It's brilliant for the town, brilliant for the economy, everything."
Mr Gates thinks it will add several million pounds to the local economy putting the town "on the international map".
Cornish resident Henry Davies, who will play a US Navy pilot in the film, said: "It's going to be really exciting.
"The scale of the production is enormous."
The admiralty salvage vessel, SD Salmoore, which is being used in the filming, was seen leaving Falmouth Docks surrounded by a flotilla of boats.
Falmouth Harbour Commissioners said a 20m (66ft) exclusion zone would be set up around the ship.