Cornwall Council plants wild flowers to save money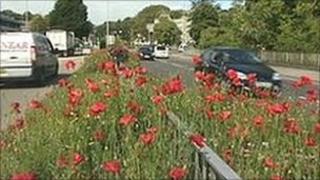 City council gardeners have planted wild flowers in plant beds around Truro.
The flowers include cornflowers, marigolds, poppies and other species more likely to be seen in meadows.
The council said the move would save money because there was no need for repeated potting or weeding, and it would help wildlife, including bees.
The gardeners are also experimenting with vegetables. One plant bed in the city has been seeded with lettuce.
Parks manager Richard Budge said: "When the flowers first started coming up, I had a few letters coming in to ask why weren't we weeding the beds.
"People didn't believe that they were wild flower seeds that we'd sown."
"People started to get excited about them when they just started to flower three weeks ago, just as the Britain in Bloom judges came."