Lizard's new lifeboat arrives in west Cornwall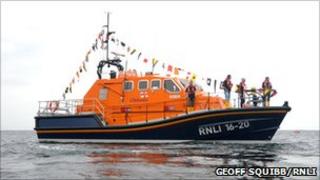 A new Tamar Class lifeboat has been delivered to the most southerly point of the British mainland.
The RNLB Rose arrived at the Lizard in west Cornwall from its Poole headquarters after after undergoing extensive trials.
A new lifeboat house at Kilcobben Cove on the Lizard is just months from completion.
The boat has cost £2.7m and the boathouse more than £6m. Around £300,000 has come from local donations.
The new Tamar-class lifeboat will replace the present 22-year-old Tyne-class boat the "David Robinson".
Ned Nuzum, the lifeboat operations manager at the Lizard lifeboat station, said: "It's a beautiful boat. It's a bit heavier than the Tyne but quicker.
"It is more comfortable for the crew and ten times safer."
Both the old and new boats will be in operation while the crew take part in some final training.
The crew have nicknamed the new boat the "Rosie" She will become the station's working vessel on 23 July.
Work continues on the new lifeboat house. The RNLI said the building work is on budget and on time. It will be completed in early October.