St Petroc's rough sleeper beds down at Truro Cathedral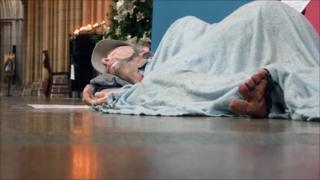 A new sculpture of a man sleeping rough in Truro Cathedral has provoked mixed responses, says a homeless charity.
Invisible Sleeper by Richard Austin was commissioned by St Petroc's Society to highlight homelessness in Cornwall.
It was put in place for a special service in the cathedral on Saturday to mark St Petroc's 25th anniversary.
Richard Bryant, from the society, said some people had been angered by the life-like figure lying on the floor and others were shocked by it.
He told BBC Radio Cornwall: "We didn't expect such an interesting and varied reaction from people.
"This sort of work is always thought-provoking and that was our intention.
"Some people were very angered by it and some people have embraced it and said how shocking it was.
"Homelessness is current, it's happening every single day all around us in Cornwall.
"Invisible Sleeper says exactly what it means, it's very difficult to see some of our rough sleepers... in Cornwall it's a rural problem."
Canon Philip Lambert, who led the service, said there was a "strong link" between the society and the cathedral both financially and because homeless people came to the cathedral needing somewhere to go.
St Petroc's provides accommodation, advice and training opportunities for homeless people.