Council service sharing plan may 'create 375 jobs'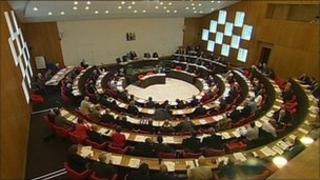 A scheme proposed by Cornwall Council could save the authority £2.5m and create about 375 new jobs, it said.
The aim would be to jointly pay for some services with health organisations and the private sector.
Council leader Alec Robertson said any suggestion they were selling off services was untrue.
Thos being considered include free school meals and libraries. The Conservative-Independent authority will consider plans on 13 July.
'Pie in the sky'
A spokesperson said if the proposal was agreed the authority would be searching for a partner.
Deputy leader of the Liberal Democrat group Councillor Alex Folkes said: "Cornwall Council should be concentrating on delivering the best possible service to the people of Cornwall at an affordable cost, not pie in the sky bids."
"It would cost £500,000 to set it up, with no guarantees it would work," he added.
Bit council leader Alec Robertson said: "Any suggestion that this is selling off Council services is totally untrue.
"By creating a new 'shared services' company in Cornwall, we would help protect both existing public sector employment and could create hundreds of new permanent, well paid jobs."
The council needs to make £170m of savings over the next four years.