Summer services return to historic Gwennap Pit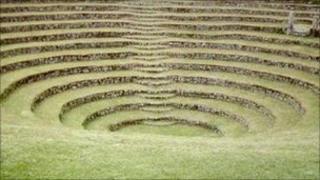 Gwennap Pit, which became world famous thanks to the founder of Methodism, has started outdoor summer services.
John Wesley first visited Gwennap Pit on 5 September 1762.
Wesley described it as "a round, green hollow, gently shelving down" and as "a natural amphitheatre".
He preached there on 18 occasions between 1762 and 1789.
Gwennap Pit was formed when underground mine workings subsided and later the sides were terraced and levelled.
As well as worship on summer Sunday afternoons, Gwennap Pit has also been used for musical events and weddings.
The Methodist Church has owned the historic site for 11 years.
In 1806, a local mining engineer and four mine captains remodelled Gwennap Pit. They created the now famous circular terraces as a memorial to John Wesley.
Summer at Gwennap Pit
The summer services take place until September:
17 July - Traditional Tea Treat with Banners, the Reverend Steven Wild.
24 July - the Reverend Michael Haighton, Rugby, Warwickshire.
7 August - the Reverend Malcolm Jones and the Launceston Circuit
14 August - the Reverend Jennifer Potter, Associate Minister, Wesley's Chapel, London
28 August - the Reverend Ivor Haythorne, Mablethorpe, Lincolnshire.
11 September - the Reverend Aubin de Gruchy, Chaplain Truro School. Harvest Festival.
All the services begin at 1500 BST, apart from the Tea Treat which starts at 1430 BST.
If wet, the services will be held in the Busveal Chapel, which is on the site.