Cornwall's stray dog numbers on the increase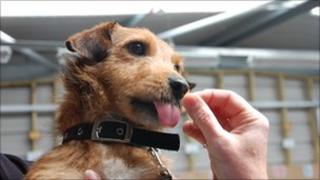 Eleven hundred stray dogs were picked up in Cornwall last year, according to official figures.
Cornwall Council said this number had risen by 20% over four years.
Facing difficult funding decisions during the recession, the authority is struggling to meet rising kennelling and rehoming costs.
Louise Barker, from the Cornish branch of the National Animal Welfare Trust, said more pets were being abandoned by owners steep rises in bills.
"It is very frustrating and emotional. You can hear that people at the end of their tether and need our help. But we can only help so many.
"We really advise people to think very carefully before taking on a pet to make sure they can cover all the costs, not just the food bills, but all the other things that could happen."
A terrier named Bobby was brought into the centre in Hayle with severe burns.
"He had gone through so much trauma and his lower body was completely burnt. It was all very sore, weeping and open. We don't know the background of his injuries," said Ms Barker.
Senior Officer for Environmental Protection, at Cornwall Council, Chris Selby said: "If the owners come forward we will pass the costs on to them, but for those animals that haven't got owners the local authority takes a hit on that.
"Thankfully Bobby's situation is unique hopefully, but our teams have certainly seen some pretty bad cases. They're incredibly passionate about what they do."