St Ives Town Council's bid for car parks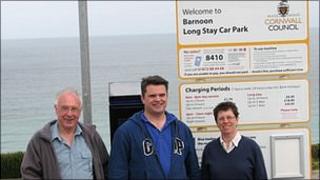 A west Cornwall town council is bidding to take over management of its car parks from Cornwall Council.
St Ives Council claims it could increase the current £1.6m car parking revenue and ease summer bottle-necks.
The town's mayor Ron Tulley said it was more expensive to use the park and ride than drive and park in the town.
Cornwall Council said town and parish councils would only be allowed to take over car parks provided the finances could be worked out.
Mr Tulley said: "People drive into the centre because they can park cheaply so the car parks become full by ten in the morning. People just drive around in circles clogging up the streets."
'Sensible charges'
He added: "Essentially we have got a two-tier market for parking. We've got the visitors who would be willing to pay more for a guaranteed parking space.
"If we got that extra revenue we could lower some of the charges for the residents particularly the long term parking, the annual season tickets and so on."
A number of residents have set up the Parking Action group to campaign on the issue.
Morag Robertson said: "Sensible charges throughout the year, higher prices in the summer, lower prices in the winter, will encourage people to park here who are local, who come out of season."
The total annual revenue generated from St Ives car parks is £1.6m with running costs of £300,000.
Graeme Hicks, from Cornwall Council, said: "What we're saying to St Ives is you can do what you want with the charges, giving local people a better deal, or resident parking, but at the end of the day we want to try and protect that £1.3m."