New beach dog controls in place deemed as 'a joke'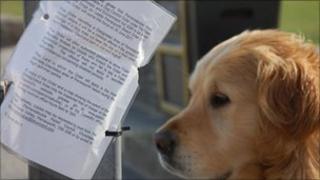 Plans to control dogs on one of Cornwall's most popular beaches have come into force.
Dog walkers at Perranporth must keep their pets on a lead in a designated area, between 1000 and 1700 BST until the end of August or face an £80 fine.
Campaigners claim the new restriction "is a joke".
Perranzabuloe Parish Council said it was responding to requests from people who were concerned about dogs fouling on the beach.
Campaigner Rory Jenkins said: "The whole thing is a joke.
"The size and shape of the zone, it doesn't work, it is a non-evidence supported control order by the council who have no respect for their community."
'Ill-considered order'
Mr Jenkins said the council had ignored the opinion of the majority of people.
Dog owner Rebecca Jay said: "It is an ill-defined, ill-considered dog control order."
Ken Yeo vice chairman of Perranzabuloe Parish Council said: "It's a very emotive issue and the council was responding to requests from people who were very concerned about the amount of dogs mess that was not cleaned up.
"We want to educate some people to clean up after their pets and keep them under control," he added.
Mr Yeo said the restriction zone was based on where the majority of people pass through or stay on the beach.
"We will monitor the situation and if needed we will amend the restriction for future years," he said.
The restriction means dog owners will have to keep their pets on a fixed short lead in the designated area.
The scheme coincides with Cornwall's peak summer season when thousands of people visit Perranporth's three-mile long beach.