Community kitchen celebrates its resurgence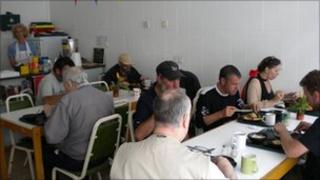 A community kitchen in mid Cornwall which was threatened with closure a year ago is celebrating its first year in its new town centre premises.
St Austell Community Kitchen (STAK) opens seven days a week in High Cross Street in St Austell.
STAK provides meals and support for some of the area's most vulnerable people.
It has been in operation for the last 25 years.
The kitchen was in danger of closure before it was offered new facilities in the town centre.
STAK is run by a group of trustees and volunteers. They have served more than 3,000 meals in the last 12 months alone.
David Matthews, one of the driving forces behind the project, said:
"It's extraordinary that one year ago we thought is this going to work? One year later, thanks mainly to the public, we've kept going and growing.
"Six days a week we serve a hot meal for a pound. But we're actually open from 10am til 5.15pm everyday."
STAK was originally started in 1989. Four years later it became a registered charity.
The charity receives support from many church organisations, and the local community.
Kim Matthews from STAK said: "An open door policy allows anyone with an interest in what we do to just walk in, chat with the clients, trustees and volunteers, and make a donation.
"That is the spirit of community that we wish to engender."
STAK can be found in High Cross Street in St Austell.