Your Paintings: Alfred Wallis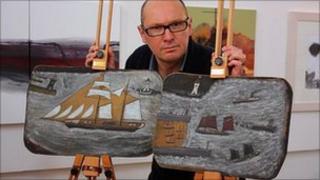 Paintings by celebrated Cornish artist Alfred Wallis are to be investigated in a BBC programme.
Inspired by Your Paintings, a major new arts initiative from the BBC, art expert Curtis Dowling will uncover two paintings that appear to be by Wallis.
Mr Dowling is on the detective trail to find out if the pictures are genuine before they are auctioned.
If they are shown to be genuine the art dealer who bought them could stand to make more than £50,000.
Wallis rose from being a humble fisherman to become one of Britain's most celebrated artists - but his simple style and the increasing value of his pictures means he has also become one of the most faked.
The pictures, bought for around £1,000 each, show St Ives Harbour and a three-masted schooner.
Hidden Paintings of the South West is due to air on BBC1 South West on Sunday at 2225 BST.
The BBC, in partnership with The Public Catalogue Foundation and collections across the UK, is launching the groundbreaking Your Paintings website in summer 2011.
The UK has an outstanding national art collection of 200,000 oil paintings, held in a vast range of public institutions.
But though they are owned by UK publicly-funded organisations, 80% of the paintings are not on display.