Walker finds a message in a bottle on Cornish beach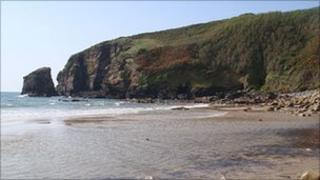 A woman from west Cornwall is hoping to trace the authors of a message left in a bottle washed up on a Cornish beach.
Teresa Boulden discovered the bottle while out walking on Praa Sands beach near Penzance last month.
The faded message suggests it was written by two Belgians. Mrs Boulden believes the bottle was thrown into the sea from an island off Brittany.
Two years ago another walker on Praa Sands beach spotted a separate message in a bottle.
Mrs Boulden who regularly uses Praa Sands beach, said: "I picked the bottle up and tipped the water out.
"There was a slip of paper sticking out. It was soaking wet but I managed to unravel it. The first word was 'Bonjour' and I thought that's exciting."
Mrs Boulden took the bottle home and dried out the message.
Although it is hard to read, she said it is possible to make out parts of the letter.
"There was a message saying they were from Belgium, staying on an island just off the coast of Brittany which was a mile wide."
Praa Sands beach was in the news a couple of years ago when Martin Leslie, a sector manager for the local coastguard, spotted another message in a bottle.
That one contained a romantic letter written in French, professing sadness at the end of an affair, along with a lock of hair.