BBC Introducing: Flats and Sharps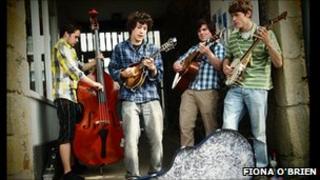 Flats and Sharps are a young four-piece bluegrass band from Penzance, Cornwall.
All under the age of 20, the band members comprise of Josh Aubrey on guitar and vocals, Mikey Ponsford on mandolin and vocals, Liam Fitzharris on double bass and vocals and Kirk Bowman on banjo and vocals.
The group met at a local Bluegrass festival in 2008, but only started playing as a band a few months ago.
Kirk Bowman said: "We all met at the Cornish Bluegrass Festival, we didn't actually form a band there, we just thought it would be fun to jam and it wasn't until a few months ago that we decided to put it all together."
The band have since started to make a name for themselves while buskin in Penzance and have begun picking up local gigs in the area.
Influences range from Tony Rice All Star Jam, Ricky Skaggs, Kentucky Thunder and Dailey and Vincent to The Grascals, Blue Highway, Bill Monroe, Del McCoury Band and The Stanley Brothers.
"We play bluegrass music for the love of it and thrill audiences with our harmonies and the way we engage with our instruments."
After their debut perfomance, The Kettle & Wink in St. Ives said: "They were a sensation when they made their "Folk" debut earlier this month, fully living up to their promise 'to put a smile on your face, get your toes a tappin' and make you feel good' and left the audience roaring for more.
For up and coming gigs, take a look at Flats and Sharps website.