Cornwall recycling scheme offers goods to volunteers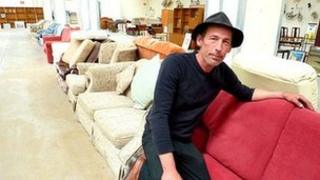 A recycling scheme in Cornwall is offering household goods to people in return for voluntary work.
The Ecologic centre, at Pool, near Redruth, collects hundreds of unwanted items and gives them away in exchange for voluntary hours.
Ecologic said the work carried out is helping the local community, describing the project as "the Prime Minister's so-called Big Society in action".
The scheme is open to anyone, not just the unemployed.
Owen Braines, from Ecologic, said the supervised voluntary hours are dependent on the item wanted.
Work is either carried out at the local centre where volunteers may be, for example be "recycling old beds" or in a local town, "painting an old park bench".
Mr Braines said: "As long as they are doing something in the community, for the community, then that's paid for really."
Andrew Boyden, 21, from Troon near Camborne, is doing voluntary painting and decorating work at the Ecologic centre in exchange for a sofa.
Mr Boyden said: "There are people out there that can't afford beds, sofas, and it's all here.
"If you're willing to put the hours in to do a bit of voluntary work, you can take whatever you wish."