Churches step up security after metal thefts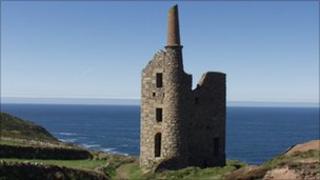 A number of building owners in Cornwall are testing new ways of preventing the theft of metal from them.
There has been an increase in attacks on churches in recent weeks, with thieves taking copper cable from lightning conductors.
On some Cornish mining sites local steeplejacks have now resorted to abseiling down the chimneys and engine houses to put the cable out of reach.
Some churches are also installing roof alarms and cameras to deter thieves.
The church warden at Breage Parish Church, Trevor Bowen, said: "It's a beautiful church. It's just a shame that this sort of thing has to happen.
'Abseiling down'
"I can see evidence of them using a hack saw. The bottom section had been bent until metal fatigue made it snap off."
Lightning conductor engineer Martin Tarpney said they were endeavouring to put the cable out of reach.
"On some of the really remote places we've been working, we've been abseiling down the inside of different structures. We've been putting the earthing system three metres under the ground, instead of one metre.
"One, they can't get to the tape because it's concealed inside the structure, then the earthing system is way too deep for them to even think about digging it up."
Thieves have also struck at Breage and Sithney churches, near Helston, removing thick copper cable.
The Ecclesiastical Insurance Group said some churches were already using security cameras and others could follow.
Church insurance policies require them to use smart water technology to security mark metal cables and roof lead.