Amnesty marks 50 years with Cornish celebrations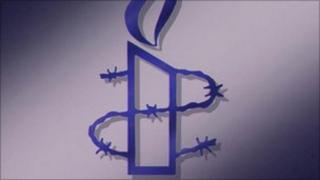 Special events have been held in Cornwall to mark the 50th anniversary of the human rights organisation, Amnesty International.
The organisation's Director Kate Allen visited Truro Cathedral as part of the local celebrations.
An exhibition of art work by Cornish secondary school students on human rights themes also took place at the cathedral.
Amnesty International was started in 1961 by a British lawyer.
Chris Ramsey from the Truro and Falmouth Group of Amnesty International said:
"Amnesty was started back in 1961 by a British lawyer called Peter Benenson. He was on the tube one day reading a story about couple of Portuguese students who had been arrested in Lisbon in an open-air cafe, raising a toast for freedom.
'Vital role'
"They were arrested and imprisoned for seven years and Peter Benenson said that this could not be right.
"He called for an amnesty worldwide for people who had been imprisoned worldwide simply for expressing their own views. He found there was an enormous interest, and within six months Amnesty International was formed.
"It was formed around the idea of supporting the Universal Declaration of Human Rights which the United Nations had introduced in 1948."
The Director of Amnesty International said people in Cornwall played a vital role in the campaign to oppose acts of oppression across the world.
Kate Allen, who was visiting Truro Cathedral as part of the 50th anniversary events, said: "We're a quarter of a million strong in the UK.
"It is an organisation of ordinary people who stand up for justice.
"Here in Truro we have brilliant members who campaign and raise the issues. It's hugely important to us."