Sita plans local consultation on St Dennis incinerator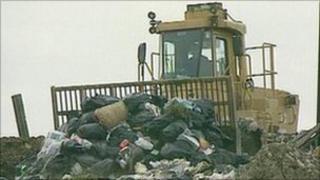 The company building a controversial incinerator near a Cornish village says it intends to establish a long term relationship with local people.
Sita UK has been given the go-ahead by the government for the Cornwall Energy Recovery Centre (CERC) at St Dennis.
It said it would hold a discussion group to measure public attitudes to the project.
There are about 35 conditions the company needs to meet before building begins.
Sita's project director David Buckle told BBC Radio Cornwall: "We're already working on information to discharge those.
"Until we do we can't commence the development. We expect that work to take several months."
'Least worst option'
He said he hoped construction could begin before the end of the year.
Eric Pickles, Secretary of State for Communities and Local Government, announced on Friday he backed Sita UK's appeal against the decision of the former county council to refuse permission for the St Dennis project.
The leader of Cornwall Council, Alec Robertson, said he had urged Mr Pickles to back the plans as the "least worst option".
But there has been strong opposition from local people opposed to all Cornwall's waste being dealt with on a single site.