Sprinkler campaign after Newquay's Penhallow fire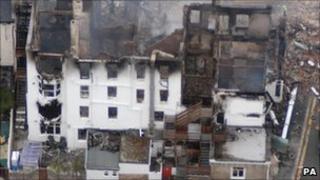 The man whose relatives were killed in Newquay's Penhallow Hotel fire is campaigning for sprinklers to be fitted to all new buildings.
John Hughes lost his mother and brother in the fire on 18 August 2007. The hotel had no sprinkler system fitted.
Mr Hughes told BBC News sprinklers would have "almost certainly" saved their lives.
Cornwall Fire and Rescue Service has launched the national campaign to change the legislation.
Wales was thought to be the first country in the world to make fire sprinklers compulsory in all new homes after it was passed by the Welsh Assembly in February.
Mr Hughes said: "I see no reason why it can't be rolled out across the UK.
"They save people's lives and buildings," he added.
About 90 people managed to escape from the 54-bedroom hotel, but Joan Harper, 80; Monica Hughes, 86; and her 43-year-old son, Peter - all from Staffordshire - died as a result of the fire.
The fire at Newquay's Penhallow Hotel was described by firefighters as the worst British hotel fire in 40 years.
In March 2011, the hotel's owner, O&C Holdsworth Ltd, of Harrison Road, Halifax, Yorkshire, admitted two charges relating to fire safety breaches.