Cornwall coastal seaweed survey fills record gap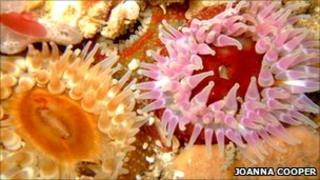 One of the most comprehensive seaweed surveys ever undertaken has been carried out off Cornwall's north coast.
Cornwall Wildlife Trust was joined by the Natural History Museum and marine biologists from around the UK.
The survey fills a gap existing in the museum's UK seaweed records dating back to the 18th Century.
Data will show how our marine habitats have changed over time - and will also help inform the government's plans for protected marine conservation zones.
Rocky reefs which jut up from the seabed are home to a wealth of marine life, rocks are covered in sponges and sea squirts, sea mats and seaweed.
Local divers helped Cornwall Wildlife Trust find and catalogue samples up to five miles out.
Angie Gall, a marine conservation officer at Cornwall Wildlife Trust, was one of the divers.
She says the data gathered will help inform conservation plans over the next few years.
"We've been wanting to do this survey for a really long time because the north coast of Cornwall is really under-recorded.
"The conservation zones are designed to protect seabed habitats, so we really needed to know what habitats there were out there."
"It's a difficult place to survey, so we brought in a team of people from all over the country and for a week we extensively surveyed the shore and underwater to try and fill in the gaps in our knowledge of the marine species and habitats."
"You'd be amazed at the colourful jewel anemones, the branching corals, the sea fans, the bright orange sponges, it's a fabulous world down there."
Professor Juliet Brodie, from the National History Museum, joined the team working in Cornwall.
Ms Brodie is an expert in marine algae and has studied marine seaweed for more than 25 years.