Jamie Oliver restaurant Fifteen Cornwall's five years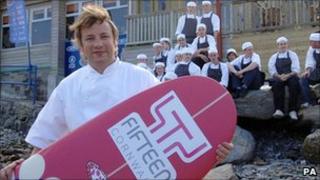 Jamie Oliver's restaurant Fifteen Cornwall is celebrating five years of helping underprivileged youngsters train as apprentice chefs.
The restaurant in Newquay claims it has had a £12m impact on Cornwall's economy.
The business encompasses a chef training programme "empowering young people in need of a second chance".
More than 100 disadvantaged young people have been trained since it opened in 2006.
The idea behind the registered charity, Cornwall Foundation of Promise, was to ensure young people from Cornwall who had hit really hard times could be given a future.
'Empowering young people'
Dave Meneer, Fifteen Cornwall's chief executive said, five years on Fifteen has made a "tremendous" impact to the local economy.
"Right now we have 99 staff on the books, 16 of those are apprentices, plus we employ about 80 full time staff as well and we're turning over in excess of £3m a year.
"Virtual all of the money, well 80% of the money we spend on ingredients goes on 30 local suppliers."
"So it's a success story on a number of different levels, on a tourism level and on a restaurant level and of course the reason we're here, not just to be a posh restaurant on top of the beach, but to train these kids up and get them through."
Sam, one of the graduates on the scheme who now has two full-time jobs, said: "Three weeks before I got into the process of application I was actually in prison, so a very different life to the one I'm leading now.
"It gave me a lot more focus to be able to get myself a career, get my life back on track and earn a decent, honest living and find something that I believe in, have passion in and not have to risk my liberties.
"Without Fifteen I'd be back in prison again."
Henry Ashworth, chairman of the Trustees, said: "In many cases these are young people who have not got qualifications, they've never had vocational training, they're not in employment, they're not in education.
"They go through an 18-month gruelling programme, this isn't easy, but they come out with qualifications, with vocational training and actually, hugely importantly they come out with a little bit of inspiration to take them forward and give them a leg up in their career."