Campaign for the future of RE in schools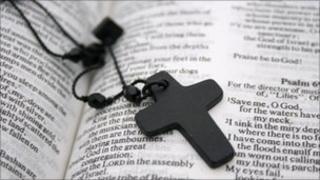 Cornwall Council's religious education adviser says he hopes the government will listen to calls to include RE in the new English Baccalaureate.
David Hampshire was speaking in a week which saw a petition containing more than 100,000 signatures handed into Downing Street, calling for Religious Education to be included.
Mr Hampshire said: "I think it's part of a broad and balanced education. Unless you have had exploration about the rule, purpose and nature of religion within society at large, I think that you are a less educated person."
The controversy surrounding its exclusion has been heavily criticised by leaders of all faiths.
They fear it will mean a generation of children will have no knowledge of the role Faith plays in society.
Now the campaign says Prime Minister, David Cameron, must honour his election promise to debate any issue which has more than 100,000 signatures on a petition.
Sue Green, the Diocese of Truro's head of education says, it is important to recognise RE as a significant subject:
"Religious Education is an incredibly important subject for our young people in so many ways. We're hoping that a re-think will give RE the status it deserves."
In a statement Downing Street said:
"In line with the commitments in the Programme for Government published in May 2010, e-petitions that receive 100,000 signatures or more will be eligible for debate in Parliament.
"Cabinet Office, Directgov and the Office of the Leader of the House of Commons are working together on the implementation of this system and further announcements will be made soon."
What are you thoughts about the future of Religious Education? Email your comments and we will add them to the bottom of this page.