Fire crews tackle Redruth Brewery blaze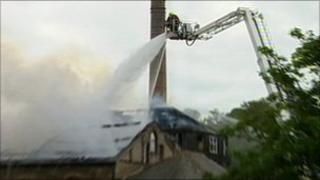 More than 50 firefighters have tackled a blaze at Redruth Brewery in Cornwall.
Six fire engines attended the incident at the derelict building on Tolgus Hill. Police said no-one had been reported injured.
Officers were called in to help with traffic delays caused by road closures. Residents were advised to keep indoors and close windows and doors.
Redruth School made provisions to ensure its pupils got home safely. The cause of the fire is not yet known.
Cornwall Council said the building was up to four storeys and covered about two acres (8,000 sq m).