Felling of diseased tree in Cornish woods 'is needed'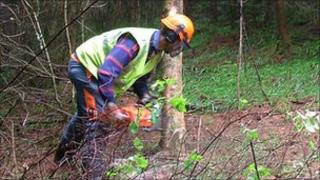 Tree felling being carried out in Cornwall to try to stop an infection spreading is sad but necessary, forestry bosses have said.
Nearly 150 hectares of trees near Truro, Liskeard and Bodmin are being cut down to fight off the disease ramorum, particularly Japanese larches.
The Forestry Commission said the work would equate to about 100,000 trees coming down.
Tree surgeon Dave Elbrow said the situation "needed to be dealt with".
The Forestry Commission has already felled 100 hectares (247 acres) of trees in the Glyn Valley, near Bodmin.
It is now felling 27 hectares (67 acres) at Idless Woods, near Truro, and 20 (49 acres) in the Herodsfoot area, near Liskeard.
Infective spores
The disease is caused by the fungus-like pathogen Phytophthora ramorum.
The larch trees were also producing high quantities of the infective spores that spread it, the commission said.
The commission's area forester for Cornwall, John Ebsary, said the work was "having quite an impact on the landscape in Cornwall", but said it had to be done.
Mr Ebsary said workers were disinfecting their equipment at the end of each day, and also doing it before moving on to other areas to prevent them from accidentally spreading the disease.
Tree surgeon Mr Elbrow added: "They're all young trees, and they could grow to a good mature age. But this disease is spreading, so it needs to be dealt with before it can be spread any further."
"It needs to be dealt with before it destroys forestry and the timber trade throughout the country."
The work has meant that some areas of the forest are being closed to the public for short periods for safety reasons.