Falmouth harbour developers vow to protect algae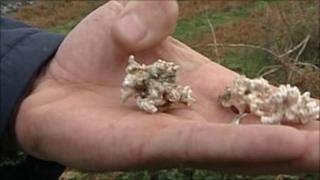 Developers behind the planned dredging of Falmouth harbour say that it will not harm a protected algae.
Falmouth Harbour Commissioners (FHC) and A&P Falmouth want to deepen the harbour for bigger vessels.
But the Marine Management Organisation (MMO) halted dredging, saying it could harm maerl beds which act as a nursery for commercial fish stocks.
Maerl is a calcified seaweed which only exists in a few coastal areas and can take thousands of years to form.
Dave Ellis, chairman of FHC, said: "We are going to touch less than 2% of the maerl.
"It will be lifted and relaid at the end of the dredge so there will be no reduction in maerl."
FHC says the new business in the harbour after dredging will create 800 jobs.
The MMO said in a statement: "We've invited the developers to come back with new proposals that address the environmental issues.
"We want to ensure the protection of the ancient and rare maerl beds - considered a non-renewable resource that cannot be lost."